In Düsseldorf for the Christmas markets
Scents of ginger and cinnamon, spiced wine to warm up on a harsh winter day and a thousand lights all around: a true institution in the city during Advent, the markets in Düsseldorf offer inspiration and raw material for pre-Christmas purchases, with decorations for the tree and the home to craft products in wool, felt, wood or glass, up to biscuits and sweets. The visit to the Christmas markets starts at the Marktplatz , or Market Square, where the stalls crown the statue of the elector Jan Wellem on horseback and harmonize in style and color with the beautiful Renaissance facade of the town hall.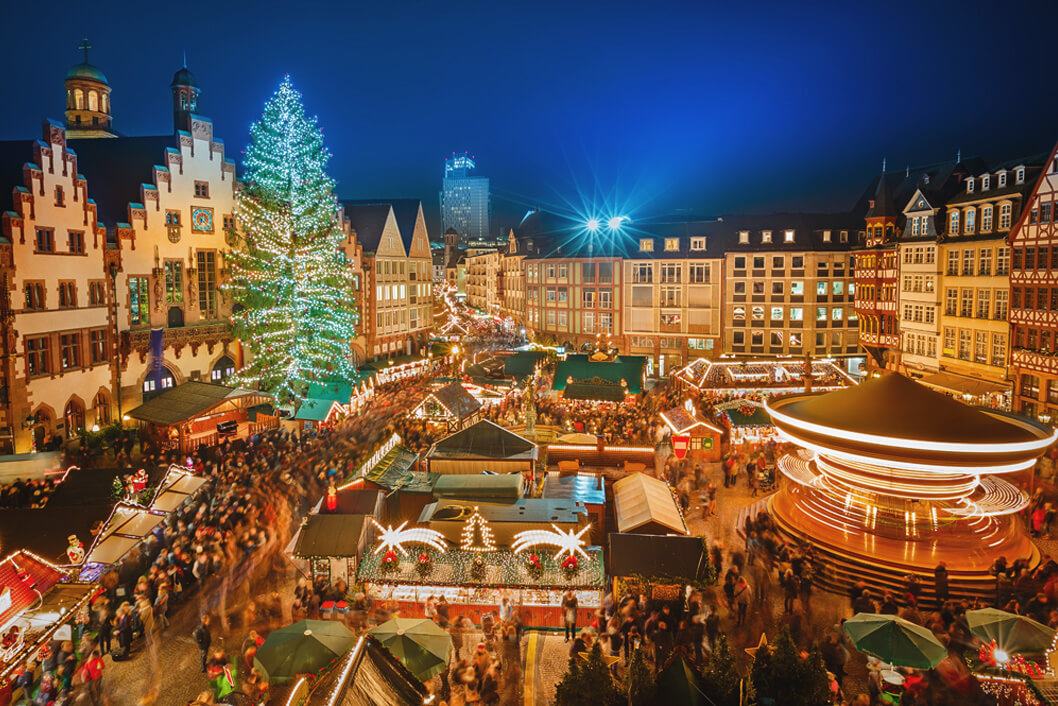 At the Engelchenmarktinstead, the atmosphere is inspired by the early twentieth century and art nouveau: the market takes its name (literally "the little angel market") from the elegant pavilion by Heinrich-Heine-Platz, a masterpiece of the Jugendstil, with figures of angels and wrought iron flowers, also reproduced in the richly lit stalls. At the Flingerstrasse market , then, the style still changes, because here the architecture of the stands refers to the elegant bourgeois houses of the old city. In Schadowsplatz , finally, the little houses and decorations, which are a tribute to the Grimm brothers' fairy tales such as Little Red Riding Hood, Frog Prince or Madame Holle, will make children's eyes shine.
To the delight of adults and children, there is also a huge skating rink from November 16th to January 27th, and at the Sternchenmarkt , set up in the court of the Wilhelm-Marx-Haus, there are little houses illuminated by dozens of stars and crystals that give all an aura of magic.
Activities for all tastes
Children like to walk among the stalls looking for decorations and sweets. If after a while they want to get distracted and play, however, they can participate in activities for kids that are held every day during the markets at the Jan-Wellem-Platz . The program includes, among other things, the bricolage with balloons and to prepare Christmas decorations and Advent calendars, the decoration of candles, the painting of Christmas motifs and greeting cards, the creation of gingerbread houses and themed pins; during each session, then,
Santa Claus will pass on a greeting and be photographed. The older ones, however, can take part in guided tours of the Christmas marketsby the city tourism board, which are held every Friday at 4:00 pm and Saturday at 2:00 pm. The tour, which lasts about two hours, ends with a delicious taste of chocolate, sweets and Glühwein. To the delight of adults and children, during the Christmas markets in Düsseldorf it is also possible to take a tour on the huge Wheel of Vision ferris wheel, set up from late October to late January on Burgplatz, or on the original carousel of the early last century in Marktplatz. Gradually and small, fun is guaranteed.