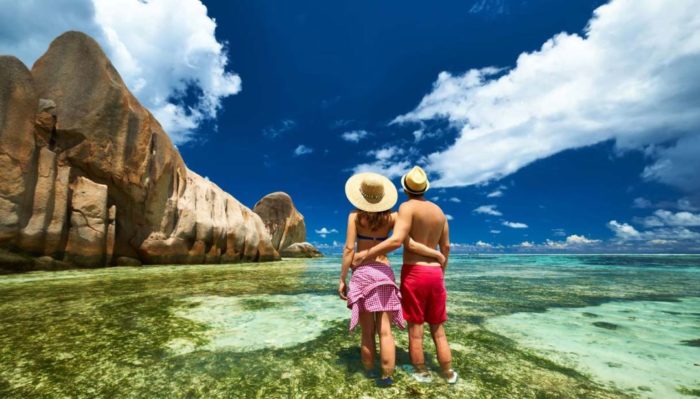 Seychelles, not just sea and relaxation
Linked to dreams of soft white beaches and crystal clear sea to fall in love with, it is no mystery that the Seychelles have always been associated with postcard backgrounds.
The archipelago bathed by the waters of the Indian Ocean is not only a "sea and relaxation" option, but much more (as explained to the public by journalists and wedding and travel experts the CEO Sherin Francis of the Seychelles Tourism Board during the Zankyou Wedding Experience , held in Rome last 4 October).
And so it is easy to imagine, in the story immersed in that lush, exotic and distant scene, to the point of seeming unreal, the cosmopolitan traditions and customs of a land accustomed to mingling with those coming from outside, be they European, African or Asian.
An island that lives in a permanent summer , in which culture is a mixture and architecture shows traces of its past, which suffered the colonial presence of France and England, with its manor houses acting as witnesses in the middle of colorful modernity.
The uncontaminated nature of this oceanic paradise will present to your eyes the same beauty in its natural parks, as in the wild beauty of the territory, populated by centuries-old trees, by some species of animals unique in the world, such as the giant tortoises that live in hundreds scattered throughout the archipelago, and destination of the migration of many (and rare) bird species.
It will enchant you with its botanical gardens , giving you the opportunity to discover and learn about spices and fruits in all their properties, even the healing ones.
An activity to which you cannot absolutely renounce if you want to know more islands, is the island hopping that, as the name suggests, consists in "jumping", in the sense of visiting them quickly, of course, from an island to another by exploring it for several days or to visit it during the day.
And if you have to look for a word to describe your journey, you will find it in: hospitality; because it is with this feeling that you will live the time spent in this lush and calm land, where even the sellers do not transform but courtesy into insistence or intrusiveness.
And you will add, to this very sensitive impression, the wonder, like the one children feel when they see something for the first time: an emotion donated by discovery and curiosity for a land so colorful and endemically enchanting, that living it only lying under the heaven, with the sun illuminating everything and the sea to wet your feet, it could never satisfy you.