5 things to do absolutely in Capri
The charm of Capri is legendary: crystal blue waters , lemon groves , small beaches overlooking the sea , magical caves and traditional Mediterranean dishes are just some of the salient features of this island.
But having a few days available to visit it, what are the best activities to do and the most intriguing places to see? Here is our proposal with the 5 things to do absolutely in Capri, with tips on how to get there and where to eat in Capri .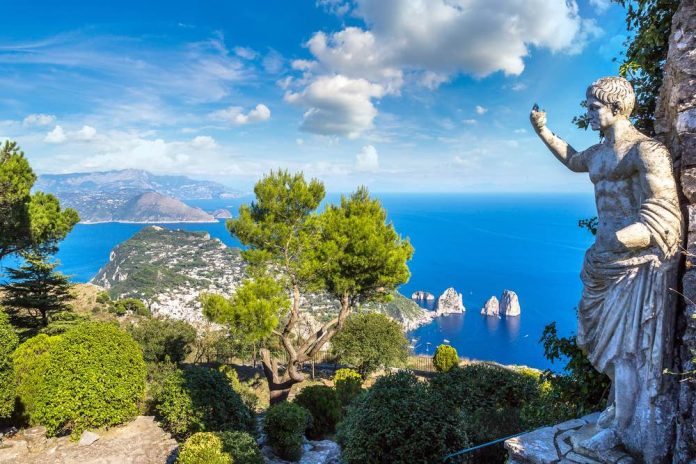 How to get to Capri?
First of all, however, you need to know how to get to the wonderful island of Capri. We started from Bologna and arrived at the Naples station with the Italo train ; duration: 3 hours and a half.
From the station, then, you have to reach the Molo Beverello , from which ferries depart for the island of Capri. We suggest you take a taxi just outside the station, which takes you 10 minutes to the pier for a few euros.
From here, there are ships and ferries to Capri about every half hour . The ticket costs € 20 , and the crossing lasts 50 minutes . The ferry will leave you at the port of Marina Grande. From here you can then reach your hotel or apartment by taxi or bus.
The 5 things to do absolutely in Capri
The Monte Solaro is the highest point of Capri, with its nearly 600 meters. From here you can admire a wonderful view of the entire island. The only way to reach it is via the chairlift located in Anacapri .
The ascent / descent costs 11 € , and the journey takes 13 minutes , where you will find yourself " flying " among the blue sky of Capri. You will also pass over lemon groves, vineyards, prickly pears, and green expanses.
Once you get to the top, the show will be even more fascinating. You will be able to see the Faraglioni, the gulf of Naples and Salerno , immersed in the sea of ​​an intense blue color.