Bassano del Grappa: what to see in one day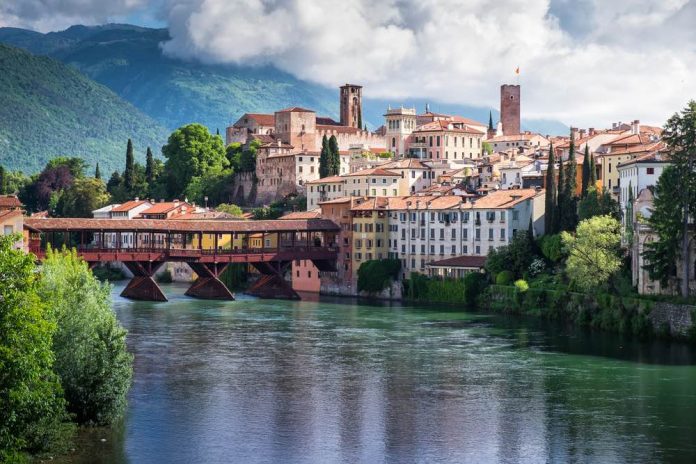 "If you want to spend a nice day out of town you should go to Bassano Del Grappa" – many say – but why? For its enchanted atmosphere, for the views of a town that retains its soul of the country, for the museums, for the aromas of fresh bread and distilled in the streets of the center and why not, for a good glass of grappa.
Ponte Vecchio called Ponte degli Alpini or Ponte di Bassano
The symbol of this city is without a doubt the mythical bridge of the Alps and certainly is one of the first things to see in the city. The bridge has been entirely built in wood and offers spectacular views in every season of the year.
The views from the Bassano Bridge
Position yourself in the center of the Ponte Vecchio and look north where the view opens onto the Valsugana.  There, in this valley among the green mountains  flows the river Brenta with its crystal clear waters that bathe Bassano. The Valsugana connects Bassano Del Grappa to Trento, which lies to the north about 90 kilometers away. To the north-east, the Monte Grappa stands out among the Veneto pre-Alps, the scene of decisive battles during the First World War.
Looking south from the Bassano bridge, the river laps the historic houses that preserve the wounds caused by gunshots from the war as the waters flow towards the New Bridge between the green banks where ducks and swans wallow undisturbed.
Take a look even under the Ponte Vecchio , where many fish take advantage of the little current between the pylons of the bridge to rest a bit 'and – if lucky – take advantage of the goodness of some tourist who feeds them throwing pieces of bread.
How to get to the -> Ponte di Bassano
If you want to take good pictures of the city I have a bit 'of advice to give you, do not miss the article